Ring's Video Doorbells come with a free Amazon Echo Dot for a limited time
If you're on the hunt for a video doorbell, there are some killer deals worth your consideration at Amazon today. Devices like the Ring Video Doorbell 2 and the Ring Video Doorbell Pro are discounted by as much as $50 but the real kicker is that they both come with a free Amazon Echo Dot. Given that the Dot alone is worth $50, you're saving up to $100 with these limited-time deals and, unlike previous offers, these deals are available to everyone - not just Amazon Prime members.
Freebie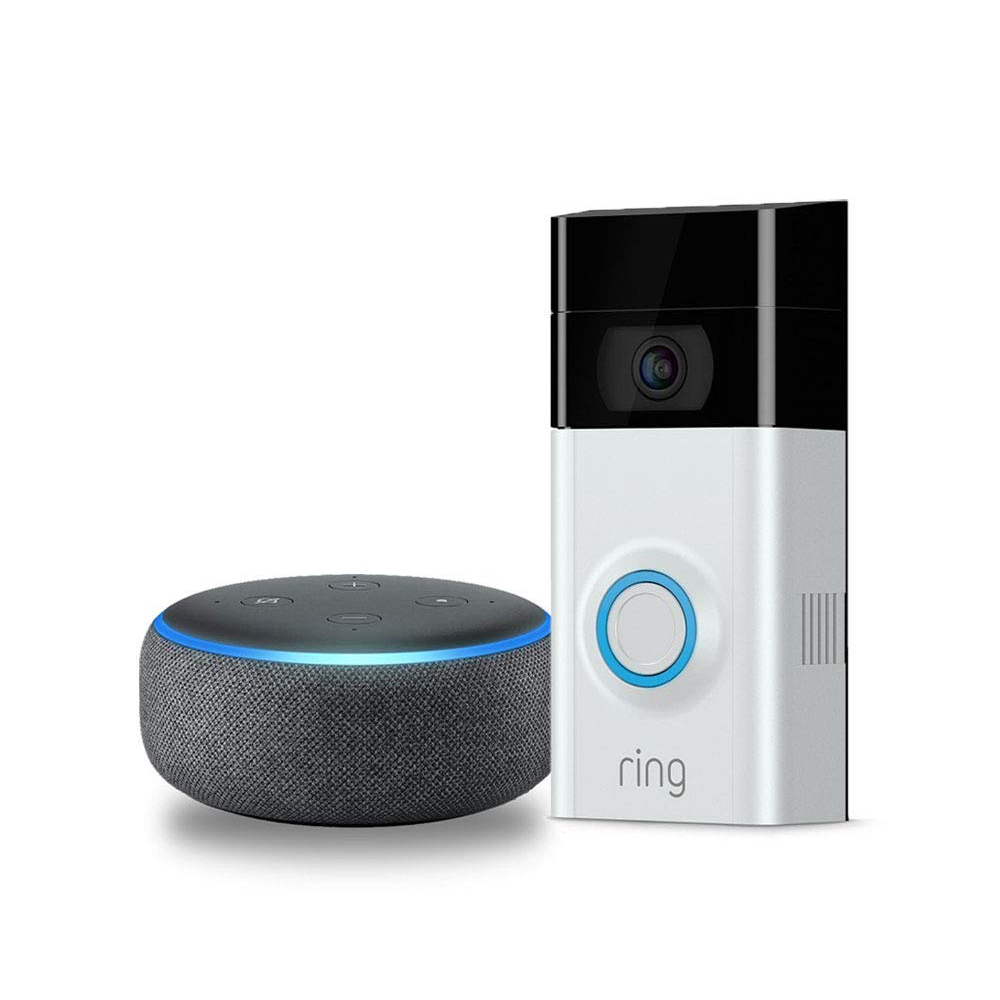 This Ring Video Doorbell 2 takes your home to the next level. Installation is simple, too. You can use the rechargeable battery that's included, meaning you just stick it up and keep the battery charged. Alternatively, if you know your way around the inside of a wall, the doorbell can also be hardwired. Once installed, you'll be able to get a notification on your phone, tablet, or computer when motion is detected or the doorbell is pressed. Thanks to the two-way communication and 1080p live video, you can see, hear, and speak to visitors, even if you aren't currently home, even at night. Another amazing feature is the Lifetime Theft Protection. If some jerk comes and steals your doorbell, Ring will replace it. For free.
Go pro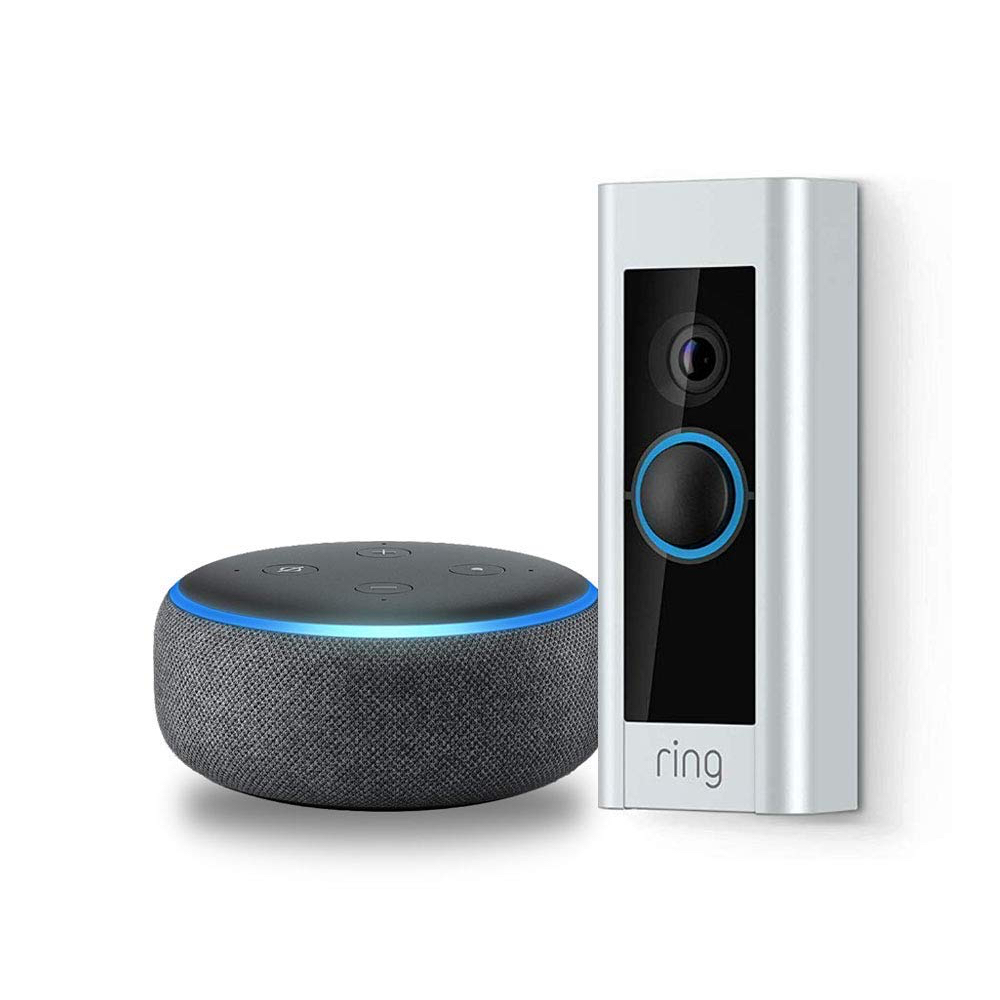 Ring's Video Doorbell Pro takes the place of your existing hardwired doorbell at home. It's equipped with a 1080p HD camera featuring infrared night vision that lets you view its video feed using an app on your smartphone, tablet, or computer, and you'll be able to do so from anywhere in the world. It's also equipped with a microphone and built-in speaker that allows you to speak with any visitors that arrive at your door. Meanwhile, its integrated motion sensor can send an alert to your phone even before the doorbell is pressed. It's also backed by Ring's Lifetime Theft Protection.
Your doorbell pairs with the included Echo Dot really easily. You can then use Alexa to turn the light on or send announcements to your Echo devices when the doorbell is pressed or motion is detected. You can use your Echo device to hear and speak to visitors, too. Of course, your Dot has access to all of Alexa's smarts so you can use it to find out the weather, get news reports, listen to radio stations, podcasts, audiobooks, and music streaming services like Apple Music or Spotify.
Both of the doorbells on sale are featured on our list of the best video doorbells of 2019, so you know you're getting a quality product. Alternatively, if $159 or $199 is out of your budget, you can pick up the Ring Video Doorbell 2 with Chime for just $99 in refurb condition.
We may earn a commission for purchases using our links. Learn more.
abc7news.org technology Ring's Video Doorbells come with a free Amazon Echo Dot for a limited time
Related News
This is an update of a deal from just a few days ago, one that sold out quickly. The price is a bit higher, but the overall deal is actually a bit better. In these days
Amazon is offering the Certified Refurbished Ring Video Doorbell 2 with Ring Chime for $99 shipped. For comparison, in new condition, the Ring Video Doorbell 2 will run you $199 and the Chime is an
Amazon.ca has a promotion right now offering up a free Echo Show 5 (worth $99 CAD), with the purchase of a Ring Video Doorbell Pro. A Ring Video Doorbell Pro on its own is
If you find the idea of installing outdoor surveillance cameras to your front door a little too much, a video doorbell is an excellent alternative. It's a simpler way of adding security to your
B&H currently offers the battery-powered Ring Spotlight Cam for $149 shipped. Typically you'd pay $199 at Amazon, with today's offer saving you $50, matching the second-best we've seen and coming within $10 of the all-time
The Ring Peephole Cam ($199) is designed for apartment dwellers or anyone who uses a peephole lens to see who is at their door. This smart doorbell is completely wireless, easy to install, and offers
For years I got by with just a knock to indicate someone was at my front door, but recently I've seen video doorbells popping up around my neighbourhood so I decided to jump in and
Altatac via Rakuten is offering the Ring Video Doorbell 2 for $123.24 shipped when coupon code HOME15 has been applied during checkout. Note: You will need to be logged in to a free Rakuten account
More News in Technology
Amazon currently offers its Fire HD 8 16GB Tablet in a variety of colors for $59.99 shipped. Normally selling $80, that's good for a 25% discount and marks the lowest we've tracked in months.
If you're a fan of stargazing, you'll be excited to know that one of nature's most magical phenomenon is lined up for this week. The astronomical event is known as 'Orionid Meteor Shower' that
Today only, as part of its Gold Box Deals of the Day, Woot via Amazon is offering the Omega NC800HDS Juice Extractor and Nutrition Center for $230.96 shipped. Usually selling for $320, today's offer saves
This morning, Amazon has kicked off a batch of notable deals on Ring video doorbells, security systems, and cameras. Alongside up to 25% off discounts, Amazon is also throwing in a free third generation Echo
Just like Walmart, Best Buy offers a slight advantage to some Black Friday buyers, as it has a multitude of physical retail stores across the United States. some of them, and some even camped from